THE SURGICAL TREATMENT OF RENAL TUMORS - A 30-MONTH EVALUATION OF THE POST OPERATIVE PERIOD AT A SECONDARY CENTER
25.07.2021
Pavel Kříž, Vojtěch Mezera, Přemysl Grubský, Khaled Baker and Abdulbaset Hafuda
Departement of Urology. Pardubice Hospital. Pardubická nemocnice. Czech Republic.
OBJECTIVES: Our aim was to compare nephrectomies with kidney resections in terms of their influence on renal function and blood loss. We compared laparoscopic nephrectomies with open nephrectomies in terms of the length of the procedure and the hospital stay.
METHODS: We retrospectively included patients who were operated for renal tumors (n=148) between January 2016 to July 2018 in a single secondary center. We considered the type of operation (nephrectomies versus kidney resections), the approach to the kidney (open or laparoscopic) and compared the following outcomes: the length of the operation, perioperative blood loss, the changes in hemoglobin concentrations, in creatinine levels and in the estimated glomerular filtration rate (eGFR).
RESULTS: Kidney resections when compared to nephrectomies resulted in a significantly smaller decline in the estimated glomerular filtration rates (β= 38.78 ml/min; p<0.001). When compared to baseline values, there was a significant drop in the eGFR on both day 1 and 3-6 months after the operation in the nephrectomy group (p<0.001 for both intervals); this drop was not present in the resection group. The decline in hemoglobin levels was bigger in the resection than in the neprhectomy group. However, during a follow up evaluation 3-6 months after the procedures, the values did not differ between the groups.
We then compared open nephrectomie with laparoscopic nephrectomies. Laparoscopy involved more time (β=38.6 minutes; p<0.001), was used for early stage tumors and involved a shorter hospital stay (β=3 days; p<0.001) in comparison to open surgeries.
CONCLUSIONS: Data from our center confirmed the findings from other literature that nephron-sparing surgeries lead to a lower decline in kidney function also remained during the follow-up. When performing a nephrectomy, the laparoscopic approach offers a shorter hospital stay fot the patient than with an open surgery.
Keywords: Kidney neoplasms. Kidney resection. Laparoscopy. Laparotomy. Nephrectomy. Renal cell carcinoma.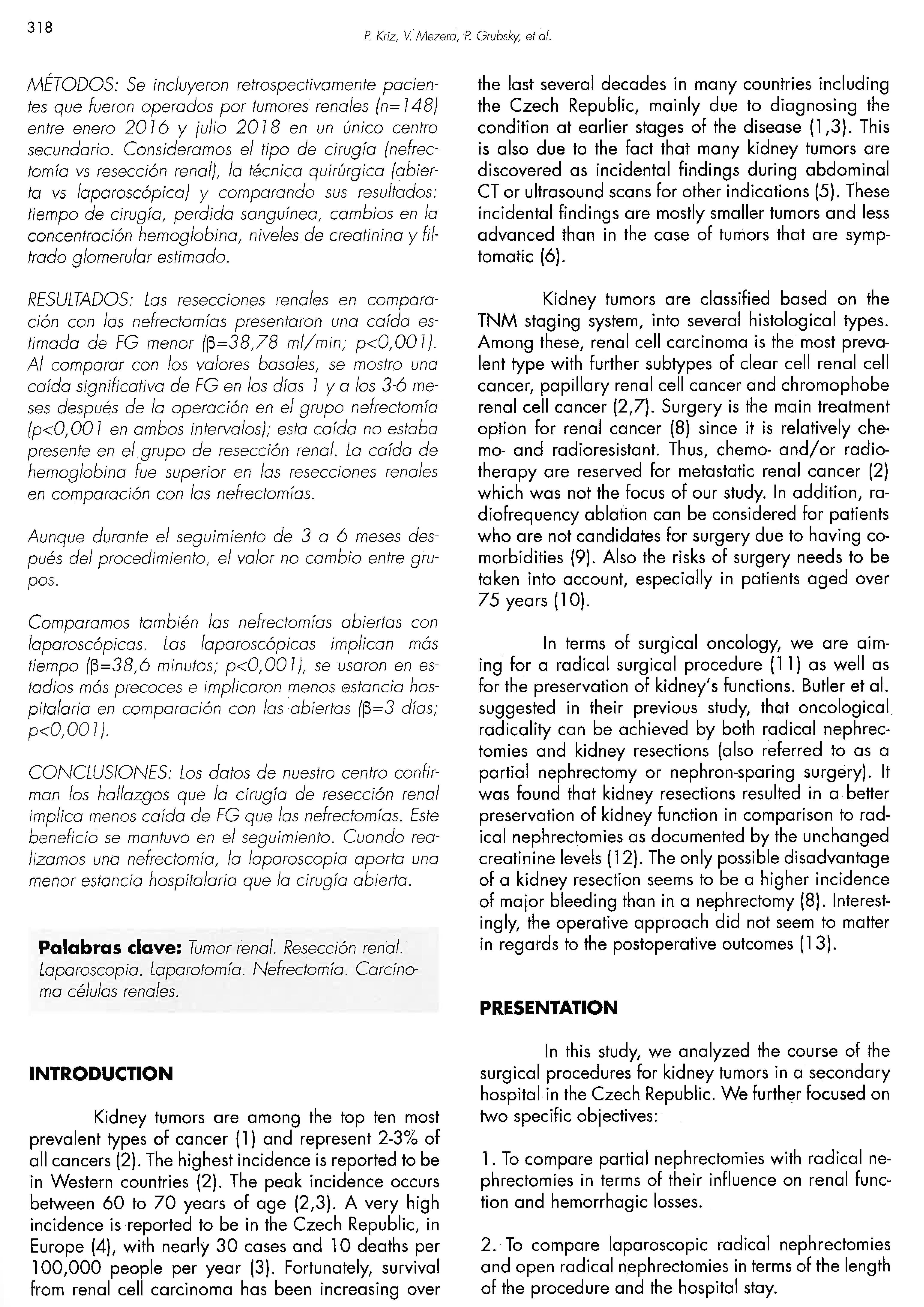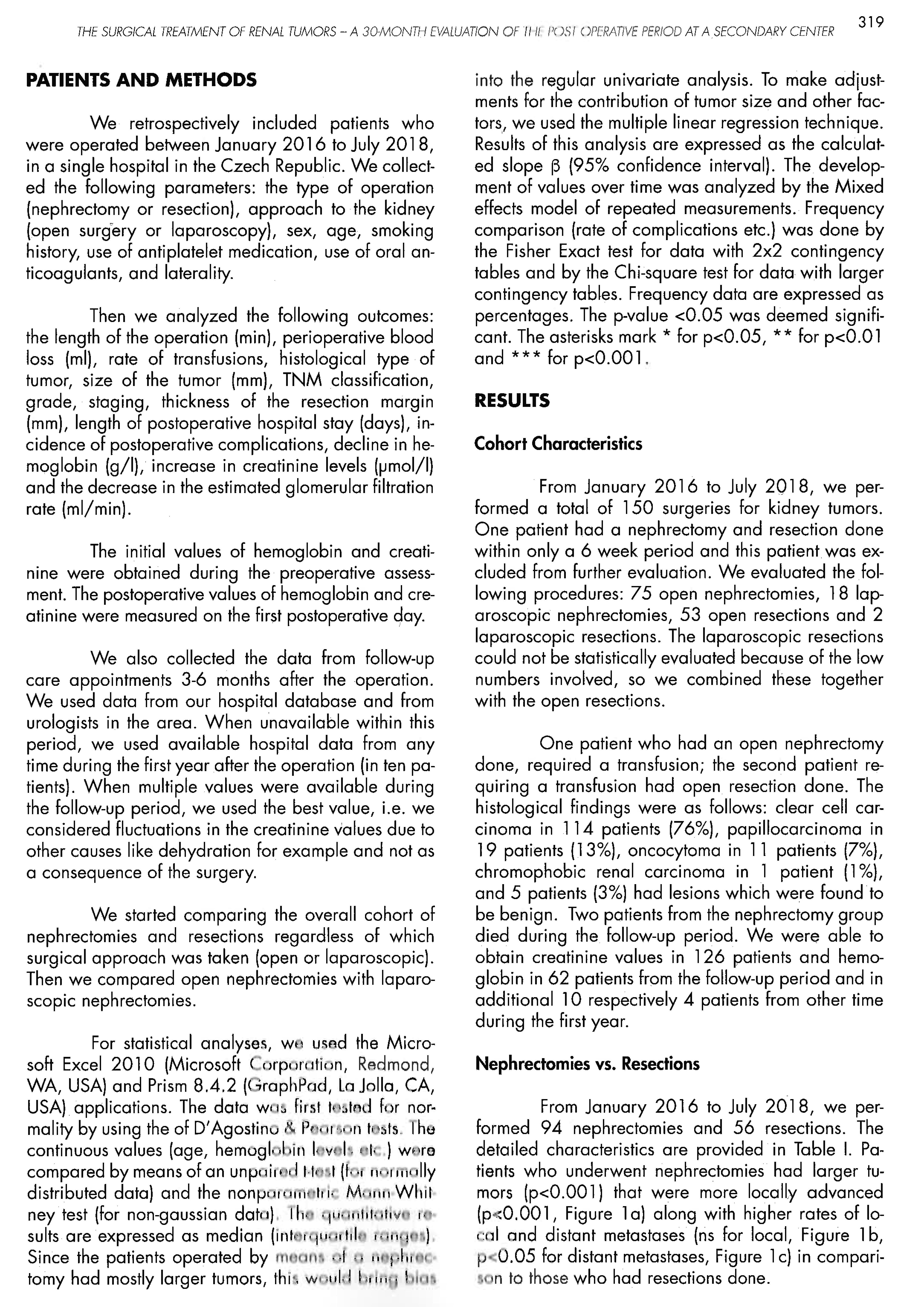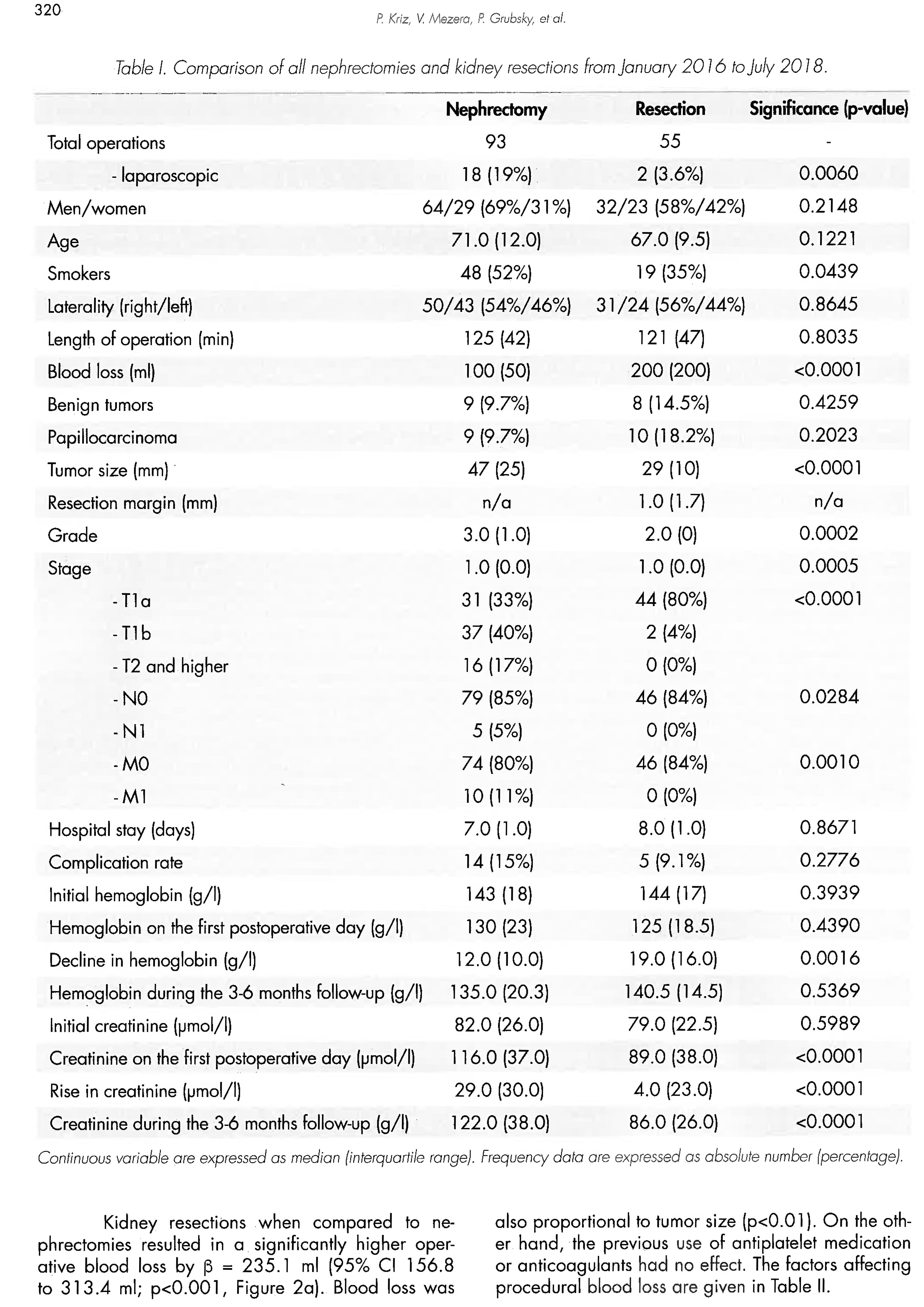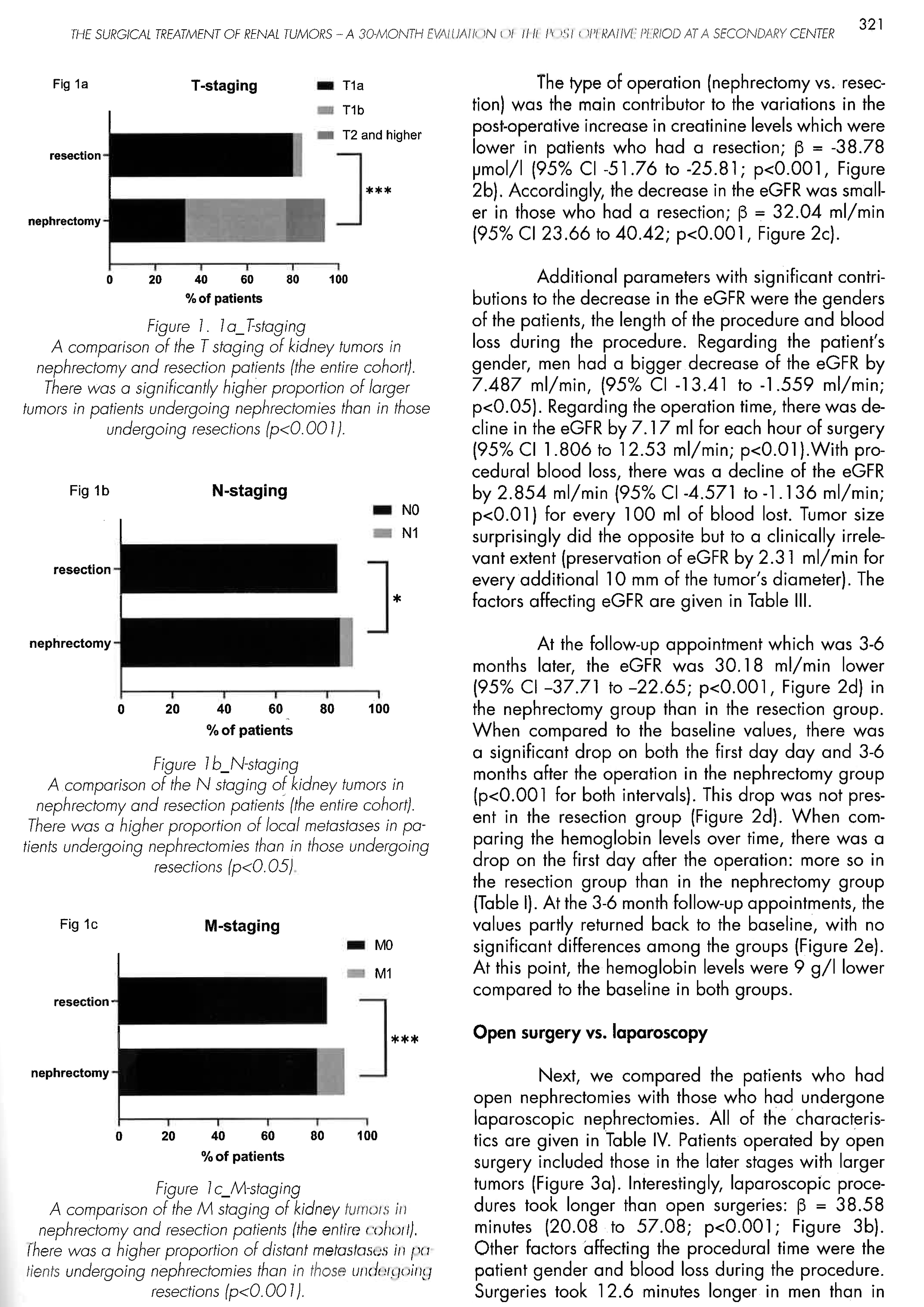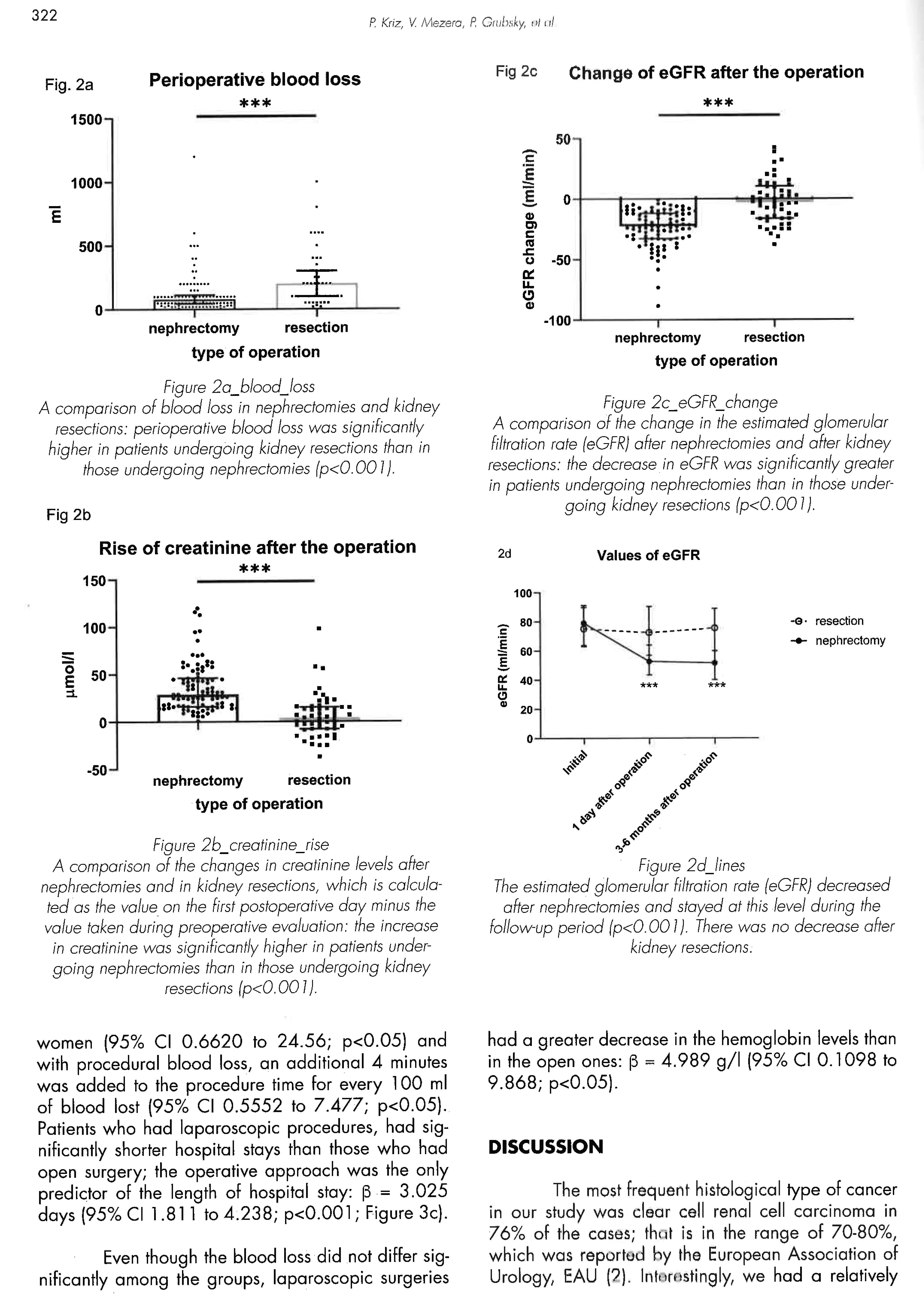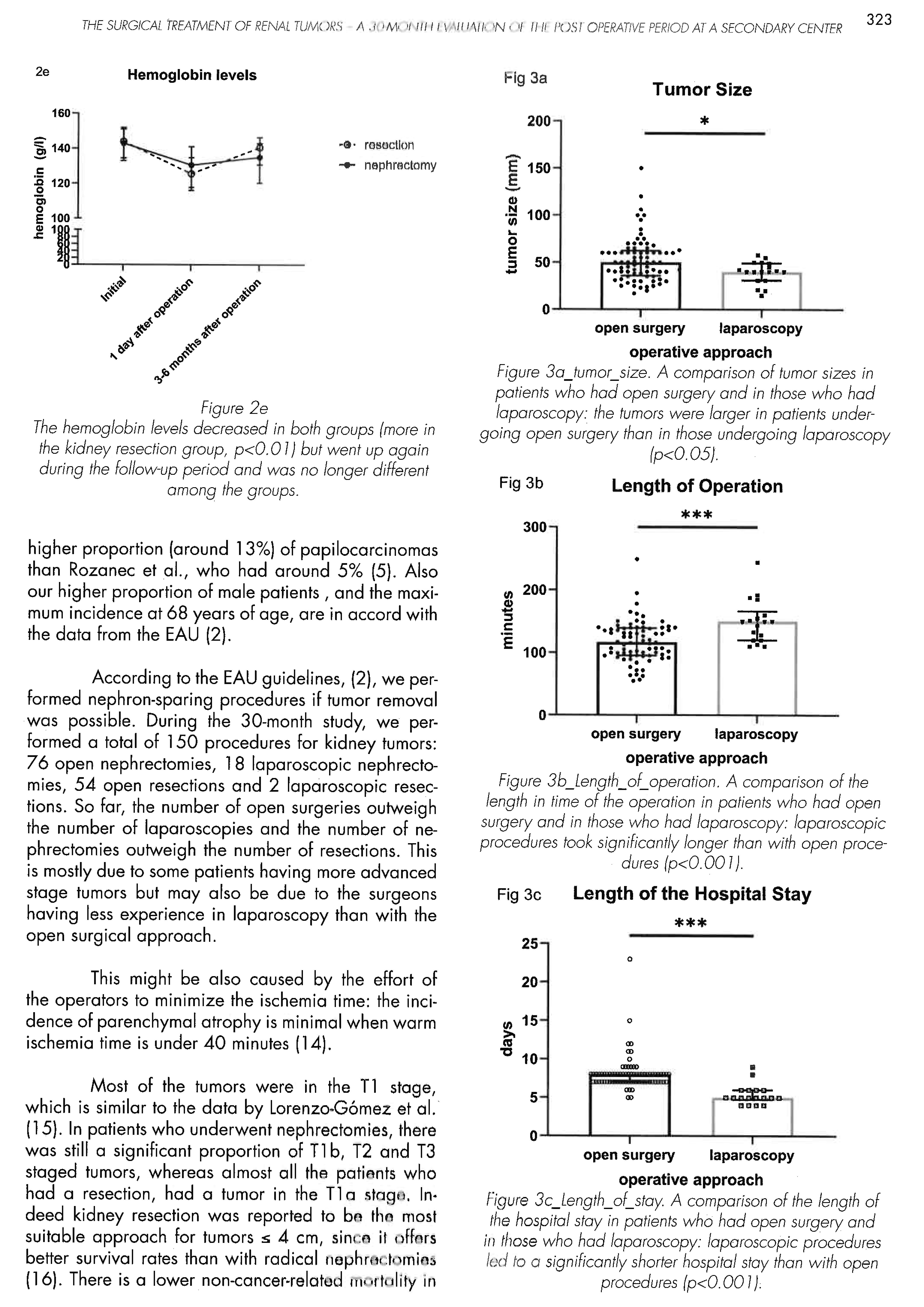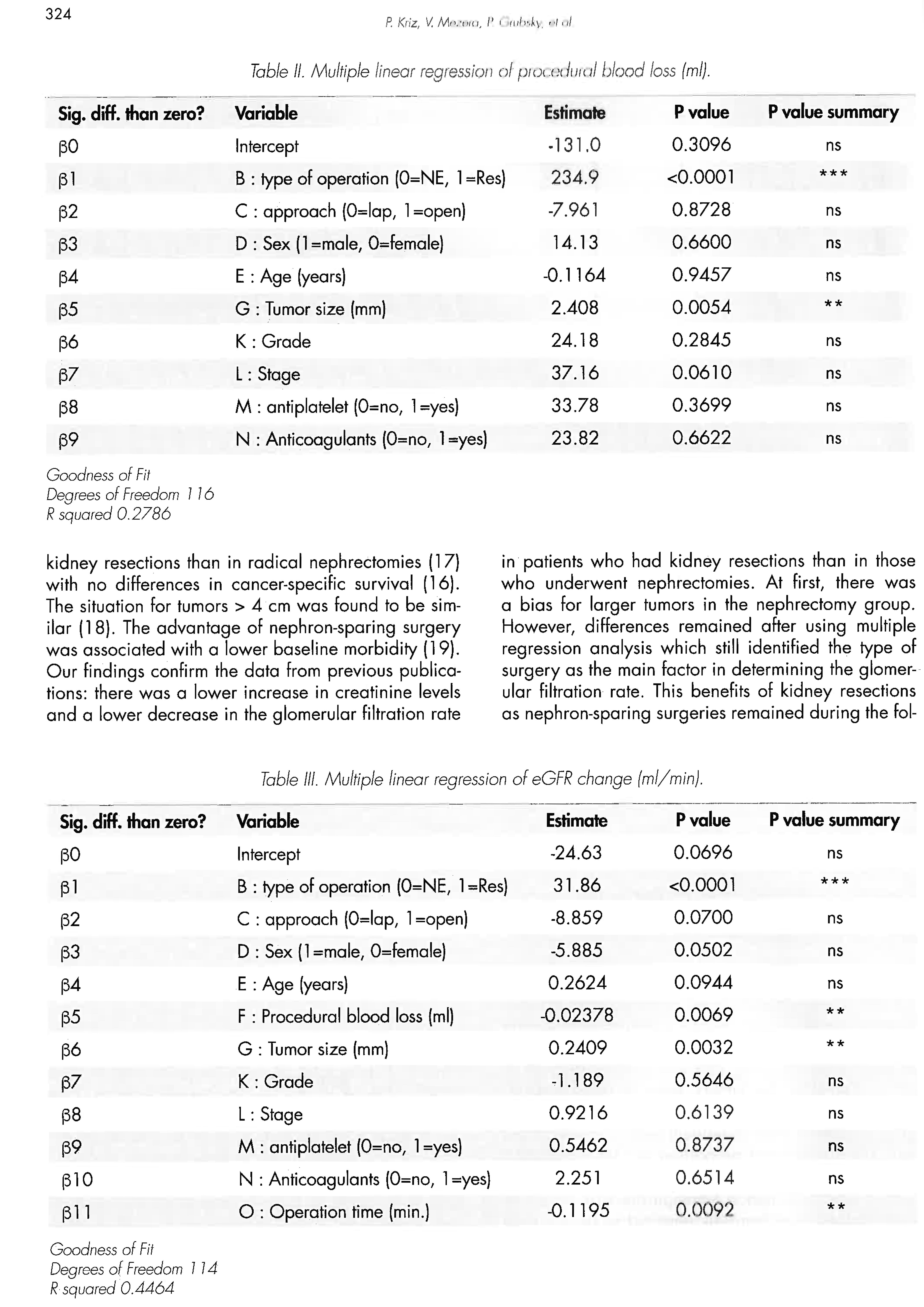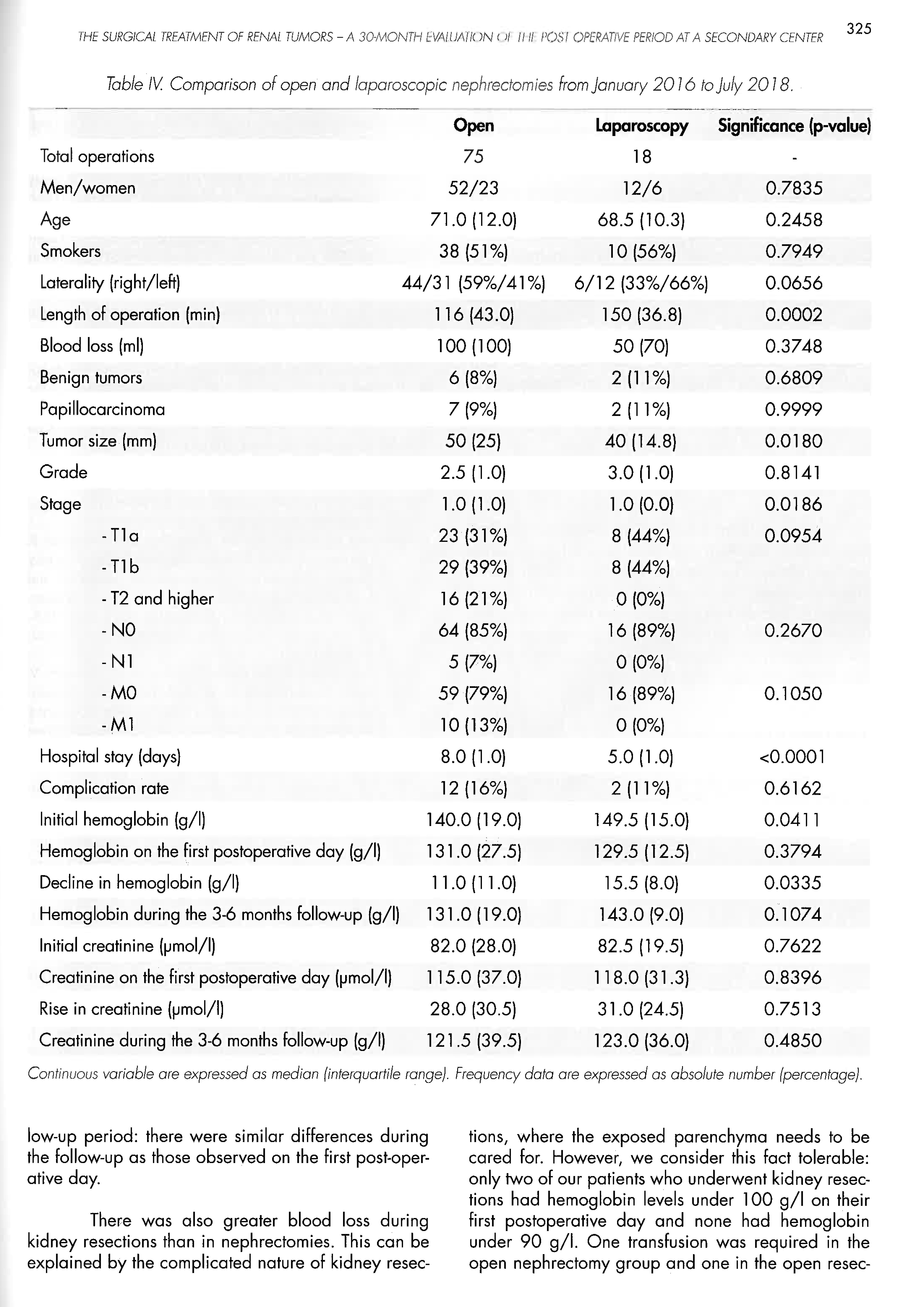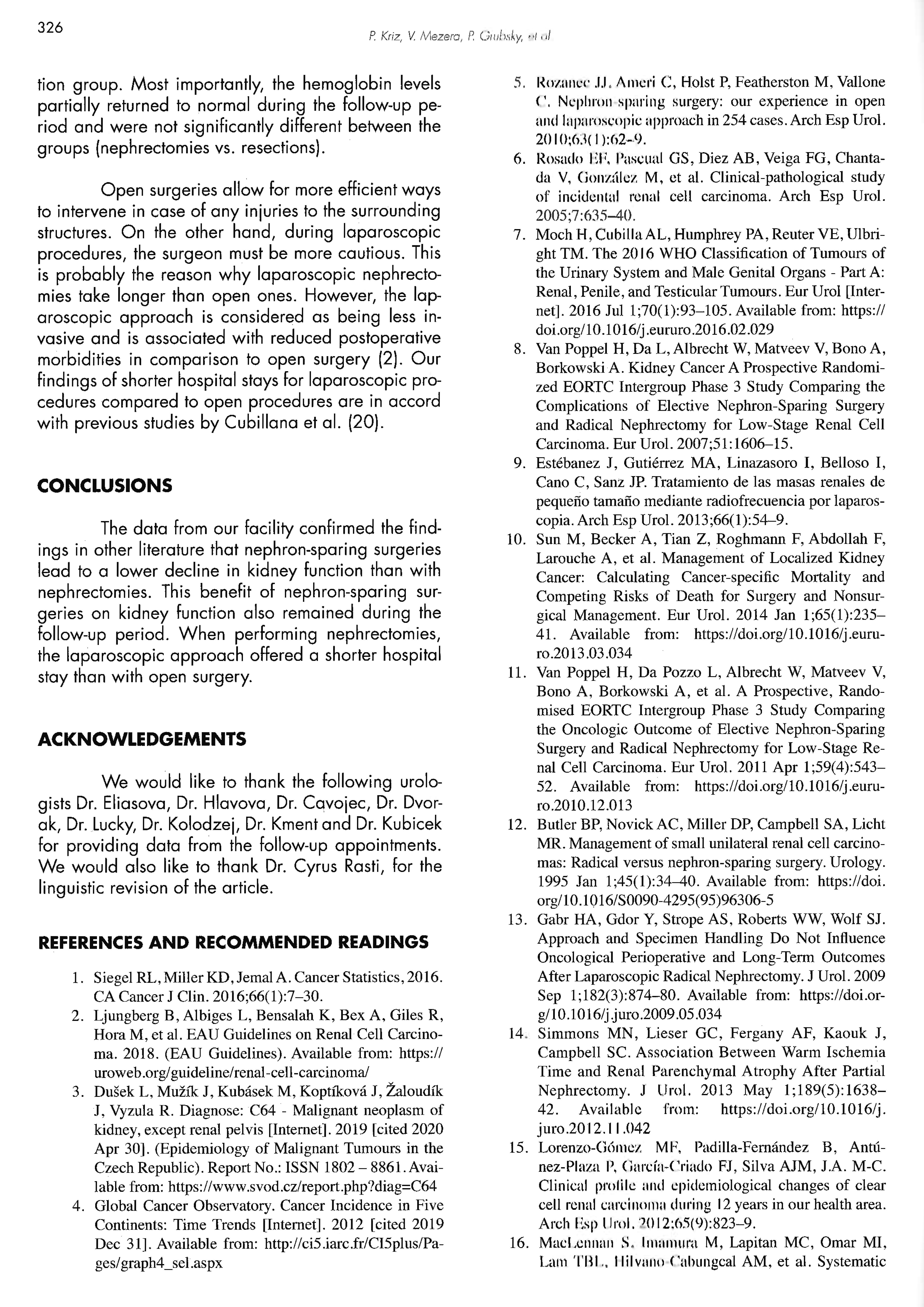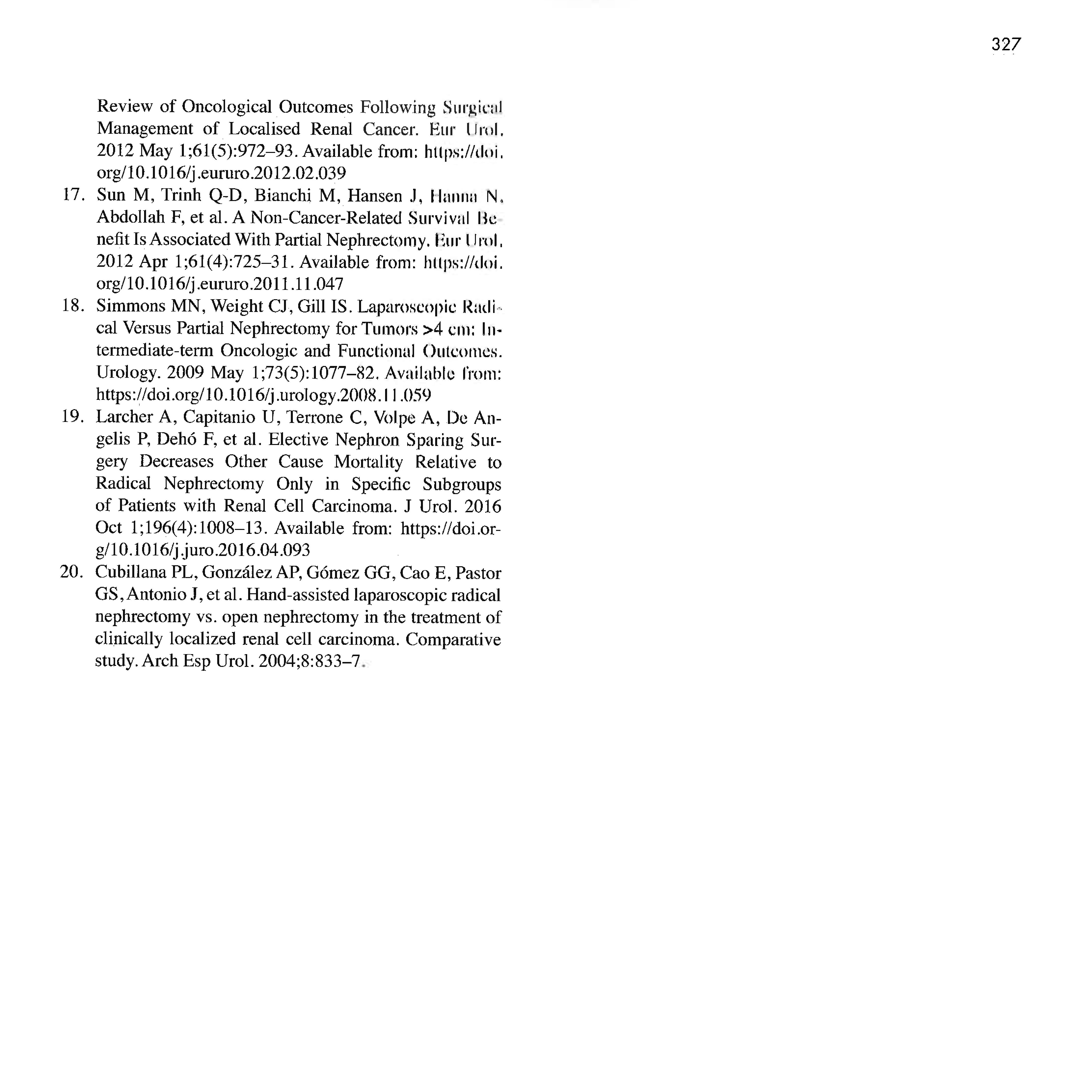 PUBLISHED: Archivos españoles de urología. 2021; 74 (3): page 317-327