Ultrasound examination of the prostate through the rectum with sample collection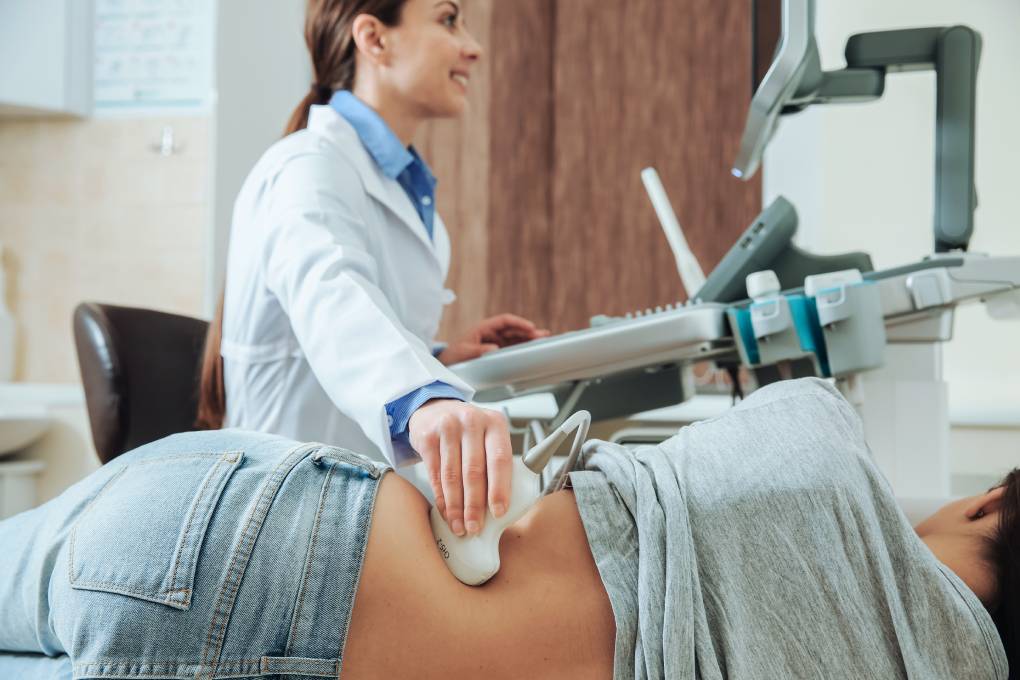 What does this procedure entail?
An ultrasound probe (diameter approx. of the index finger) is inserted into the rectum during this examination and biopsy samples (rapid puncture using an automatic system) of tissue are collected from the prostate for further examination. The procedure is usually well tolerated and is performed without general anaesthesia.
What are the alternatives to this procedure?
Unfortunately, none – if prostate cancer is suspected, the only valid way to confirm or exclude the diagnosis is histological examination of the collected tissue. However, do not forget that while a positive sample clearly confirms malignancy, a negative sample does not rule it out completely.
What should I expect before this procedure?
Blood collection, to determine the blood count and blood clotting parameters. No more than a week in advance.
At least 7-10 days before the examination, it is necessary to stop taking all drugs that affect blood clotting. E.g.: Acylpyrin, Anopyrin, Aspirin, Godasal, Kardegic, Aspegic, Micristin, Ibustrin,Ticlid, Tagren, Ipaton, Apo-Tic, Plavix, Persantin, Curantyl, Anturan, Aggrenox, Vessel due F. The physician performing the biopsy MUST be informed about the use of drugs that affect blood clotting.
On the day before the scheduled examination, you will start using the antibiotic prescribed by your doctor.
On the eve of the procedure, it is advisable to empty your bowels, e.g., using a suppository.
Have something to eat on the day of the examination, do not go hungry for the examination!
Remember to inform your physician about the following possible facts before the procedure:
artificial heart valve
coronary artery stent
pacemaker or defibrillator
artificial joint
artificial graft
neurosurgical bypass
other implanted foreign body
use of the following prescription drugs: Warfarin, Aspirin or Clopidogrel (Plavix®)
any abnormalities or eventualities
Be sure you had sufficient opportunities to discuss any questions you may have had before signing this form.
What will happen during this procedure? You will lie on your side with lower limbs bent. An ultrasound probe will be inserted into your rectum to examine the prostate in detail. Afterwards, individual samples will be taken from certain areas of the prostate (approx. 6-12 in total) using electronic aiming and a special thin needle. Sampling is usually performed on an outpatient basis without anaesthesia (exceptionally with short-term hospitalisation and general anaesthesia).
What will happen immediately after this procedure?
In general, you should be informed about the course of the procedure and you should:
ask if the planned outcome was achieved
inform the medical staff about any problems
ask what you can and cannot do
ask all the questions you have for the healthcare professionals and members of the medical team.
make sure you know the procedure course and further steps
Patients usually have blood in the urine (it is advisable to increase fluid intake) and in the stool for a short time – it can take several days. Blood is also present in the semen – up to 6 weeks after the procedure.
We recommend resting regime with minimal physical load for 24 hours, higher fluid intake. Use the antibiotics at the dose prescribed by your physician (usually for 4 days after the procedure).
Are there any possible side effects?
Most treatment/diagnostic procedures are associated with potential side effects.
Common (10% of procedures of this type)
Urine contains blood
Sperm contains blood – it can last up to 6 weeks, but it is completely safe and does not mean any problem for you and your sexual partner
Blood in stool
Urinary tract infection (10% risk)
Discomfort in the prostate area due to swelling and haemorrhage
Bleeding causing inability to urinate (2% risk)
Occasional (2-10% of procedures of this type)
Blood infection (septicaemia) requiring hospitalisation (2% risk)
Bleeding requiring hospitalisation (1% risk)
Failure to detect clear prostate cancer
The procedure may sometimes be repeated if the biopsy is inconclusive/unconvincing or if your PSA continues to rise
Rare (may occur in 2% of procedures of this type)
Inability to urinate (urine retention)
What should I expect when I return home?
Before leaving the outpatient office, you should:
get recommendations on recovery at home
ask when you can return to normal activities such as work, exercise, driving, cycling, housework and sexual activities
get a contact number for further questions after returning home
ask about the date of the following check-ups and the place where you should come
make sure you are aware of the reason and the course of the examination
It is important that you:
are at home for 48 hours after the biopsy
drink twice as much fluid as usual for 48 hours after the biopsy
take care of the proper function of the intestines
avoid physical activity
complete the antibiotic treatment
Discomfort in the prostate usually disappears after conventional painkillers.
What else should I watch out for?
If you experience flu-like symptoms, chills, pain/burning when urinating, or fever, you should contact your doctor, as your condition may require more intensive antibiotic treatment.
If you are unable to urinate or if blood and especially blood clots appear in your urine or stool, you should contact your doctor or urologist immediately, or go to emergency.
Any important information?
After the test, we will usually arrange an outpatient check-up with you, where we will discuss the next diagnostic or treatment steps. Based on the examination, the doctor may recommend further examinations to clarify the diagnosis and the state of the disease.
We cooperate with health insurance companies
in the Czech Republic