Tension-free vaginal tape (TVT)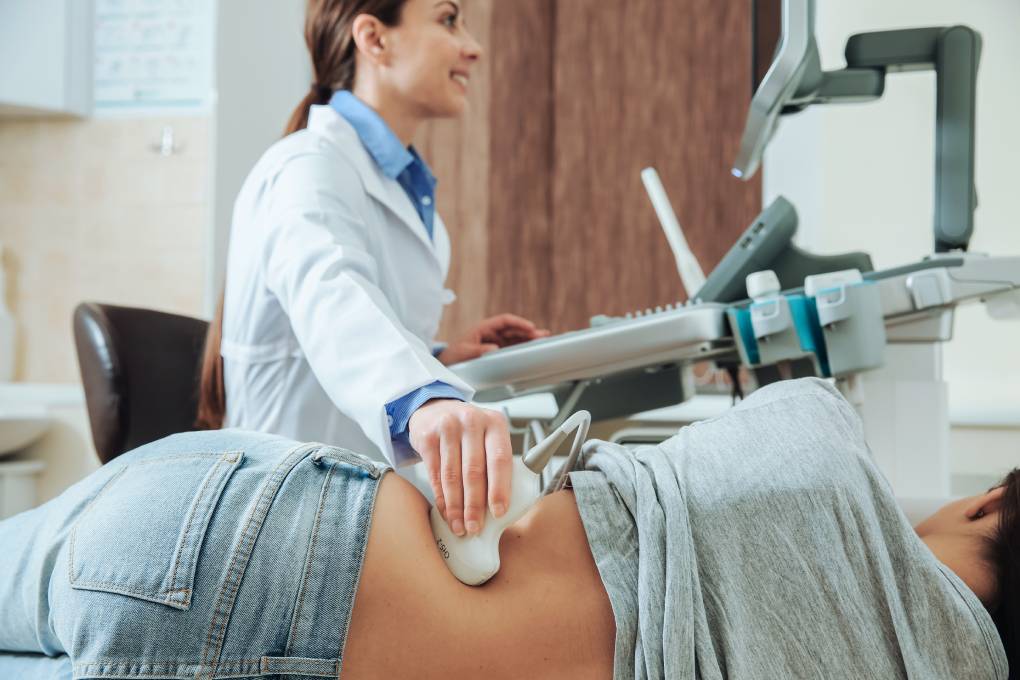 What does this procedure entail?
Vaginal tapes are introduced as a treatment of stress incontinence (leakage of urine during physical activity, sneezing, change of position, etc.). The tape is inserted through a short incision in the vagina under the urethra.
Synthetic tapes are made of an inert material (stable and well-tolerated), most often polypropylene in the form of a fine mesh. Unless a really exceptional situation arises that requires removal, the tape will remain in your body permanently. TVT stands for Tension-Free Vaginal Tape (a kind of a "hammock") – the correct position of the tape after healing will provide sufficient support to the urethra during increased intra-abdominal pressure, thereby actively preventing urine leakage.
A newer alternative is TOT/TVT-O, or trans-obturator tape. Unlike the original TVT, this tape no longer needs to be inserted into the lower abdomen during the surgery, further reducing the invasiveness (surgical burden and possible complications) of an already minimally invasive procedure. Both methods of tape insertion are suitable in certain indications. Surgical treatment using a tensile tape has been performed since the mid-1990s and is one of the most frequently performed surgeries for stress urinary incontinence in women.
Both procedures are relatively fast, the procedure takes about 30 minutes. At our site, it is performed exclusively under general anaesthesia.
The results of TVT and TOT are almost identical. Most patients with urinary incontinence referred a significant improvement in the condition and the quality of life after the surgery. The overall success is expressed by the so-called satisfaction rate, which reaches 90-95%.
What are the alternatives to this procedure?
Hanging surgeries were commonly performed in the past, such as the colposuspension (vaginal suspension) according to Burch. These days, they are performed rather exceptionally.
Submucosal injection of non-absorbable substances into the bladder neck is also a rare approach.
Conservative alternatives include rehabilitation exercises and physiotherapy, the use of drugs or just incontinence aids.
What should I expect before this procedure?
If you regularly use Anopyrin, Clopidogrel, Warfarin, etc., you must tell your doctor. These medications can be associated with increased risk of bleeding during and after the surgery if they are not stopped in time. In some cases, it is necessary to replace these drugs with injection preparations. It is necessary to consult your general practitioner or cardiologist about this approach.
At the request of the referring physician, you will have to schedule preoperative examinations to assess your overall condition, including laboratory and instrumental tests. If the report does not preclude the indicated procedure, you will be admitted to the hospital. If you don't undergo a preoperative examination or it is incomplete, you will not be able to have the surgery as scheduled. You will be admitted by a nurse and a member of the medical team will complete your examination and assess your fitness for the surgery.
You will be asked not to eat or drink for at least 6 hours before the surgery!
In the evening before the surgery, you will receive medication from an anaesthesiologist to calm you down so that you sleep well.
Remember to inform your physician about the following possible facts before the surgery:
artificial heart valve
coronary artery stent
pacemaker
artificial joint
artificial vascular graft
neurosurgical bypass
other implanted foreign body
use of the following prescription drugs: Acylpyrin, Anopyrin, Aspirin, Godasal, Clopidogrel, Plavix, Kardegic, Aspegic, Micristin, Ibustrin,Ticlid, Tagren, Ipaton Apo-Tic, Plavix, Persantin, Curantyl, Anturan, Aggrenox, Vessel due F.
drug and other allergies
any abnormalities or eventualities
It is NECESSARY to inform the physician about your use of drugs affecting blood clotting before your admission for the procedure.
What will happen during the surgery?
The procedure is performed at our site exclusively under general anaesthesia. The insertion of the TVT/TOT tape includes two small incisions (each 0.5 cm in length) in the groin or lower abdomen and a 1.5-cm longitudinal incision in the anterior wall of the vagina. The tape is placed under the urethra using a sharp inserter and pulled out through the groin/lower abdominal incisions. Afterwards, both ends are shortened and inserted into the body. While cystoscopic examination is performed during conventional TVT due to the risk of bladder injury during the procedure, the newer alternative (TOT) does not require this precaution. A vaginal tamponade is performed at the end of the surgery to reduce any swelling or bleeding by exerting pressure on the wound. The catheter is usually also left in the bladder (both commonly for 24 hours).
If a significant descent of the anterior vaginal wall is found during the preoperative examination, which could cause problems after emptying the bladder after TVT surgery, plastic surgery of the anterior vaginal wall is performed during one procedure (with the implantation of the tape). In this case, the bladder catheter is usually left in the bladder for 3 days.
What will happen immediately after this procedure?
You will wake up at the intensive care unit equipped for the continued monitoring of patients immediately after the procedure. The surgeon will inform you about the course of the procedure. You will still have high levels of anaesthetics in your blood at that time, so you may not remember this conversation.
There should be no blood in the urine after this surgery. The vaginal tamponade is removed the next day. There may be mild-vaginal bleeding / blood clots discharge afterwards. The urinary catheter is removed on day 1 or 3 after the surgery (in the case of vaginal plastic surgery).
Once you are fully conscious, you should:
ask if the planned outcome was achieved
inform the medical staff about any problems
ask what you can and cannot do
ask all the questions you have for the healthcare professionals and members of the medical team.
remember (and understand) why the surgery was performed, how it turned out, and what will follow
What are the postoperative risks or complications?
Common (10% of procedures of this type)
Frequent voiding due to urinary urgency, sometimes with urine leakage. These symptoms are usually present already before the surgery
Failure – severe incontinence persists Some women continue to suffer from mild incontinence
Inability to completely empty the bladder, so there is a need to have a permanent catheter in the bladder, or you will have to use the catheter to empty your bladder several times a day (intermittent self-catheterisation)
This problem ("hypercorrection") is usually solved after healing by cutting the tape and releasing the urethra
Infection
Slow urine flow
Recurrence of stress incontinence; this can happen several years after the tape is inserted, even if your symptoms were initially cured
The procedure is performed exclusively under general anaesthesia. TOT can cause pain in the thighs or groin. This pain is manageable with commonly available painkillers in most cases. Exceptionally, stronger painkillers need to be used.
Occasional (2-10% of procedures of this type)
Strong bleeding
Injuries to surrounding tissues (e.g. bladder, rectum and blood vessels)
Recurrent urinary tract infections, vaginal secretions and dyspareunia (pain during sexual intercourse)
Rare (2% of procedures of this type)
Erosion or migration of the tape into the vagina, bladder or urethra (even several years after the surgery).
Hospital infections
MRSA colonisation (0.9% – 1 of 110)
Intestinal infection by clostridium difficile (0.01% – 1 of 10,000)
MRSA blood infection (0.02% – 1 of 5,000)
Hospital infection rates may be higher in high-risk patients, such as in cases requiring long-term drainage, after a previous infection, after prolonged hospitalisation or after multiple hospitalisations.
What should I expect when I return home?
When you are discharged from the hospital, you should:
get recommendations on recovery at home
ask when you can return to normal activities such as work, exercise, driving, housework and sexual intercourse
get a contact number for further questions after returning home or in case of trouble
ask about the date of the following check-ups and the place where you should come (hospital or your attending physician)
make sure you are aware of the reason, course and outcome of the surgery, the results of examinations or the removal of tissues or organs.
At your departure from the hospital (sometimes several days later), you will receive a hospitalisation report. The document contains important information about your hospital stay, your surgery and recommended follow-up. If you need to call your attending physician or visit the hospital for any reason, take this document with you so that the physician knows the details of your treatment. This is especially important if you need to consult another doctor or longer after discharge.
What else should I watch out for?
If you experience more frequent problems, burning or difficulty urinating, or have unusual bleeding, consult your attending physician.
Seek medical attention in the following cases:
Strong vaginal bleeding or discharge
Persistent abdominal or lumbar pain
High fever
Pain or other difficulties when urinating
Any important information?
Follow the recommendations below to ensure an uncomplicated course of healing. Do not bath (shower only) and avoid sexual activities and cycling for at least one month after the surgery. Do not lift heavy loads (more than 5 kg) for about 4 to 6 weeks. The duration of sick leave depends on your type of occupation – office work is possible without restrictions after 7 to 14 days. Manual and physically demanding work is possible after 4 to 6 weeks, exceptionally after up to 3 months. Your recovery may take longer in case of infectious or other complications.
We cooperate with health insurance companies
in the Czech Republic