3D and 4D images of the foetus
3D/4D ultrasound can also be used to acquire a picture (3D) or video (4D) of your baby directly from your belly. You will be able to see its face, expression and movements, a great experience for future mums and dads. The baby can be seen quite realistically, in 3D and in real time.
We perform foetal imaging using the most modern Voluson E10 ultrasonic device, which allows us to obtain a high-quality spatial image of a part of the foetus (most often the head). The best quality record can be obtained in week 25 to 30 of pregnancy.
No referral form from your attending physician is required for scheduling a consultation. 3D/4D imaging is considered an above-standard method, which is not covered by health insurance companies. It costs CZK 1,250, but future parents not only get an unforgettable experience, but also a DVD recording, which can be a great addition to the family photo or video album.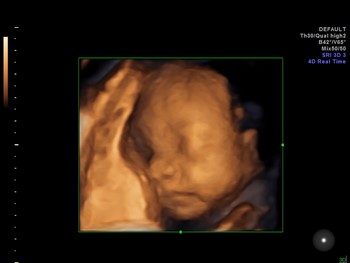 Our ultrasound specialists are long-term holders of FMF (Fetal Medicine Foundation) certificates and the certification of the Ultrasound Diagnostics Section of ČGPS ČLS JEP